PRE-ORDER PRESENTING THE GLADIATORS: DELUXE EDITION HERE!
DELUXE EDITION OF THE GLADIATORS' PRESENTING THE GLADIATORS OUT AUGUST 10 ON CD, LP AND DIGITAL PLATFORMS
Features 3 unreleased disco mixes and 4 rare singles that have never been released on CD nor LP prior
Iconic Gladiators' roots reggae hit "Hello Carol" remastered and streaming now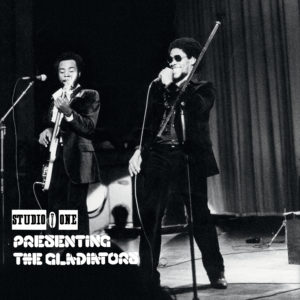 To continue the celebration of International Reggae Day, Studio One has announced that they are giving the deluxe treatment to The Gladiators' Presenting the Gladiators. The original version of Presenting the Gladiators has been out-of-print for over a decade and the deluxe edition is completely remastered, touting the original tracklisting along with rare singles not featured on previous CDs or LPs and three totally unreleased disco mixes from the vaults of Studio One. Pre-order the collection HERE.
The Gladiators auditioned for the legendary soundman and founder of Studio One Coxsone Dodd in 1968 and out of those sessions came their seminal hit "Hello Carol". Studio One released a remastered version of the original 2 track mix of "Hello Carol" from Presenting the Gladiators: Deluxe Edition for International Reggae Day. Listen to "Hello Carol" HERE.
This year marks the 50th anniversary of The Gladiators and the group's legacy as roots reggae pioneers is still felt to this day. Their influence and timeless sound is detailed in the deluxe edition's liner notes written by world-renowned reggae expert and Heartbeat Records/Studio One personality Chris Wilson. This collection of songs was produced by Studio One founder and "Father of Jamaican Music" Coxsone Dodd, prior to his death in 2004.
Since 2016, Studio One has been partnered with Yep Roc Records to reissue albums from legendary artists such as The Wailers, The Skatalites, and Freddie McGregor, as well as an entirely new compilations of rare and unreleased material from the vaults of Studio One and the House of Joy box set that chronicles the label's unparalleled sixty-year history.
PRESENTING THE GLADIATORS: DELUXE EDITION
(Studio One)
North America only
LP, CD, and digital available on August 10, 2018
TRACKLISTING:
Hello Carol (Original 2 Track Mix)

Rainy Night in Georgia (Original 2 Track Mix)

Easy Squeeze (Stereo Mix)

Love and Meditation (Stereo Mix)

On the Other Side (Stereo Mix)

Jah Jah Go Before Us (Stereo Mix)

Roots Natty (Original 2 Track Mix)

Peace Truce (aka Peace) (Stereo Mix)

My Thoughts (Mono Mix)

Downtown Rebel (Mono Mix)

Jah Almighty (Original 2 Track Mix)

Serious Thing (Take 2) (Original 2 Track Mix)

[Previously unreleased on LP]

Serious Version (Original 2 Track Mix)

[Previously unreleased on LP]

Jah Jah (Vers.) (Stereo Mix)

[Previously unreleased on LP]

Culture (Original 2 Track Mix)

[Previously unreleased on LP]

Rearrange (Disco Mix)

[Previously unreleased]

Peace Truce (Disco Mix)

[Previously unreleased]

Roots Natty/Natty Chalawa (Disco Mix) (feat. Lone Ranger)

[Previously unreleased]