RARE JAMAICAN SINGLE MIX OF "SWEET YOU, SOUR YOU" PREMIERES AT UNITED REGGAE
LP AVAILABLE FOR LIMITED TIME EXCLUSIVELY AT DISCOGS FOR  INTERNATIONAL REGGAE DAY JULY 1
LP AND CD AVAILABLE AT RETAIL AND DIGITAL SERVICE PROVIDERS AUGUST 11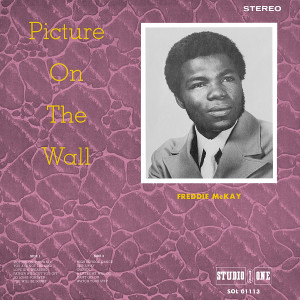 Out of print for over a decade, Studio One announces the release of a deluxe edition of Picture on the Wall, the highly influential debut from reggae musician Freddie McKay. In honor of International Reggae Day on July 1, Studio One will offer Picture on the Wall: Deluxe Edition on LP exclusively for a limited time through Discogs. On August 11, Picture on the Wall: Deluxe Edition LP and CD will be available at retail and digitally at all North American digital service providers.
Originally released in 1971, and showcasing McKay's unparalleled talent, the deluxe edition features 24 tracks, with many never-before-released on CD or LP. Offering alternate versions, rarities, and extended mixes, this is the definitive collection of Freddie McKay at Studio One. With an extended mix of "Love Is a Treasure" and a version of "Picture on the Wall," featuring the stylings of Prince Junior, these rarities from the Studio One vaults shine new light on McKay's brilliance.
As one of the earliest examples of McKay finding his voice and offering a taste of the vibrant single mixes, the never-before-released on CD or LP, rare Jamaican single mix of "Sweet You, Sour You" premiered today at United Reggae.
McKay's untimely death in 1986 cut short a highly promising career. Working with the legendary Coxsone Dodd and backed by the Soul Defenders, McKay made his authentic, rocksteady sound visible throughout Picture on the Wall. Many of the songs that initially caught Dodd's attention, such as "High School Dance" and the title track, are found here.
Since 2016, Studio One has been partnered with Yep Roc Records to reissue albums from legendary artists such as The Wailers and The Skatalites, as well as an entirely new compilation from Don Drummond. Other releases include a reissue of the rare Money Maker compilation and two broadcasts of the Studio One Radio Show.
Discogs, the largest online database of music releases, recently surpassed five million artists accounted in their database, as well as featuring information on over eight million releases across more than one million labels.
FREDDIE McKAY
PICTURE ON THE WALL: DELUXE EDITION
(Studio One)
North America Only
LP available for order at Discogs on July 1, 2017
LP, CD, and digital available on August 11, 2017
TRACKLISTING:
Picture on the Wall
You Are Not the Kind
Love Is a Treasure
Father Will Cut You Off
So Long Forever
You'll Be Sorry
High School Dance
Slip Away
Old Joe
A Little Bit Will Do
Can't Go On
Watch Your Step
Drunken Sailor
Drunken Sailor (Version)
You'll Be Sorry (JA Single Mix)
You'll Be Sorry (Version)
Picture on the Wall (JA Single Mix)
Picture on the Wall (Version)
Picture on the Wall (Vers. 3) (Featuring Prince Junior)
I Am a Freeman (aka I Am Free, Freeman)
Sweet You, Sour You (JA Single Mix)
Old and Grey (aka When I Am Grey)
My True Love
Love Is a Treasure (Extended Mix)