RARE EXTENDED MIX OF "SURFING" BY ERNEST RANGLIN & THE SOUND DIMENSION PREMIERES AT AQUARIUM DRUNKARD
RED VINYL LP FEATURES TWO PREVIOUSLY UNRELEASED TRACKS NOT INCLUDED ON ORIGINAL LP
LP AND CD AVAILABLE AT ALL RETAIL STORES AND DIGITAL SERVICE PROVIDERS SEPTEMBER 22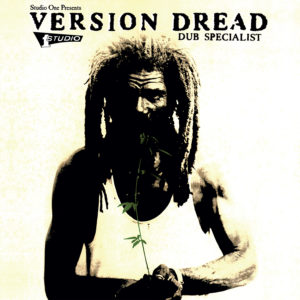 "Anyone with an ear for reggae history…will like what they hear." – PopMatters
"Dance club and reggae fans, DJs and hip-hop mixmasters, this is must-have material for your CD collections…" – Bullz-Eye Music
Out-of-print for over a decade, Studio One announces the reissue of Version Dread, the compilation of some of the finest and most sought-after B-sides from the label responsible for fueling the dancehall crazes in Jamaica. Initially released in 2006 by Heartbeat, the album received acclaim from reggae publications like Downbeat Special, who noted "Version Dread gathers together a selection of some of the best B-side versions to emanate from Brentford Road." The album is now available for pre-order.
Featuring 18 B-sides of top Studio One singles made for commercial release, the collection includes mixes of the Wailing Souls, Willie Williams, the Abyssinians, and a host of other legendary groups. Also included are two extended mixes: "Never Give Version" by Carlton and the Shoes, and a rare mix of Ernest Ranglin's "Surfing", which premiered today at Aquarium Drunkard. Neither of these songs were featured on the original LP.
The title "Version Dread" stems from the fact that on the flip sides of most Jamaican singles were dub versions of the vocal tracks, or what were commonly referred to in Jamaica as "versions." In the early days, these "versions" were mainly the instrumental track with or without vocals. These were the days when songs were not recorded on multi-track machines. As the technology advanced, more complex mixes of the vocal side became the norm, with echo, flanging and dropouts on the instruments and vocals.
Since 2016, Studio One has been partnered with Yep Roc Records to reissue albums from legendary artists such as The Wailers and The Skatalites, as well as an entirely new compilation from Don Drummond and a deluxe edition of Freddie McKay's Picture on the Wall. Other releases include a reissue of the rare Money Maker compilation, a House of Joy box set chronicling the history of Studio One, and two broadcasts of the Studio One Radio Show.
For more information on Version Dread and other Studio One releases, please visit http://studioonerecords.com/.
VERSION DREAD
(Studio One)
North America Only
LP, CD, and digital available on September 22, 2017
TRACKLISTING:
1. Ernest Wilson & The Sound Dimension – Why Oh Why Version
2. Sound Dimension – Fire Coal Version
3. Winston & The New Establishment – Creation Version
4. Sound Dimension – Please Be True Version
5. Willie & The Brentford Rockers – Armagideon Version
6. The Soul Vendors – Born to Dub
7. Sound Dimension – Pick Up Version
8. Lloyd Robinson & Brentford Disco Set – It Deep, Pt. 2
9. Sound Dimension – Version Dread
10. Sound Dimension – Declaration Version
11. The Soul Vendors – Things a Come Up to Dub
12. Sound Dimension – Zion Lion
13. Cornel & The Brentford Rockers – Natty Rub a Dub
14. The Heptones & Sound Dimensions – Give Me This Version
15. The New Establishment – Fire Version
16. Basil Daley – Hold Me Baby, Pt. 2
17. Sound Dimension – Train Is Coming, Pt. 2
18. The New Establishment – New Broom, Pt. 2
19. Ernest Ranglin & The Sound Dimension – Surfing (Extended Mix)
20. The New Establishment – Never Give Version (Extended Mix)