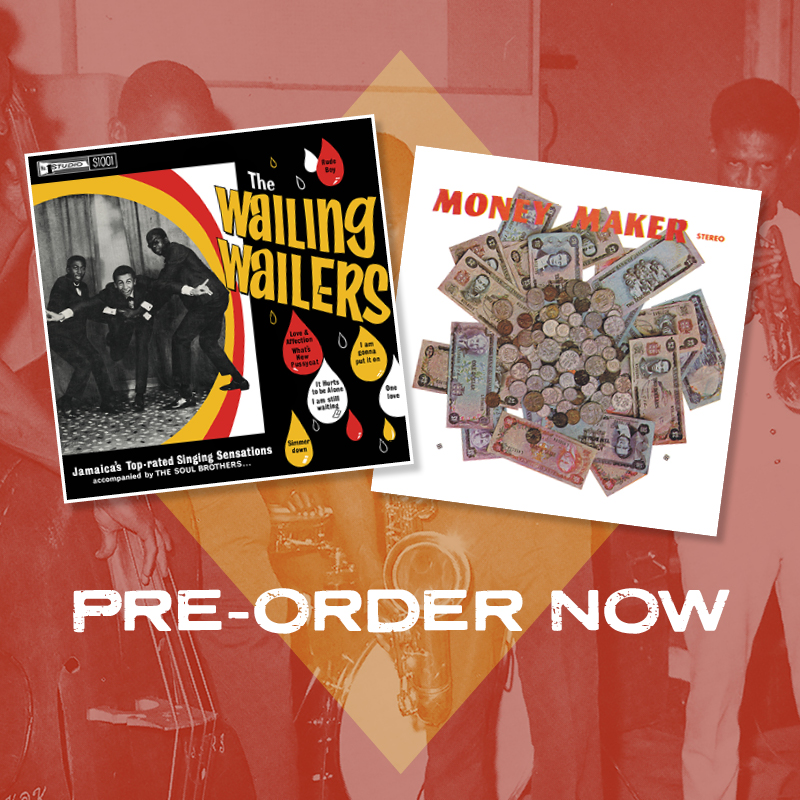 Classic Reggae Albums to be Released with Original Tracklisting and Artwork, including The Wailing Wailers on May 27th and Money Maker on August 8th.
Founded by Clement "Coxsone" Dodd in the late 1950's, Studio One was one of Jamaica's most renowned recording studios and record labels, helping to pioneer ska, rocksteady, dub and dancehall.  The label discovered and released music from The Skatalites, The Wailers, Delroy Wilson, Jackie Mittoo, The Maytals, Jackie Opel, The Gaylads, Alton Ellis and more.
While compilations of tracks from the label's catalog have been issued over the years, many of the label's essential albums have been out of print for decades, with some of them fetching hundreds of dollars from collectors anxious for real documents of reggae's crucial past.
Now Studio One, in conjunction with the Yep Roc Music Group, will see titles from its catalog re-released in their original formats, with track listings and album artwork intact, as well as new additions to the catalogue.
Kicking things off on May 27th will be The Wailers and their debut album The Wailing Wailers which features three reggae legends who went on to lead very successful solo careers. Bob Marley, Peter Tosh and Neville "Bunny" Livingstonare joined by Junior Braithwaite, Vision Walker, Beverly Kelso and Rita Marley in an unforgettable collection of Coxsone's finest productions. The reissue will include the original 1965 Jamaican masters and cover featuring a young Bob Marley, arms outstretched, between Livingston on the left and Tosh on the right. Included in the album is their hit track "Rude Boy" which established The Wailers as the leaders of the new reggae movement. The original LP version of the album has been out of print for decades, fetching huge sums from collectors, and the album has never before been released on CD with the original track listing and artwork.
Also available for pre-order on April 8th is a reissue of the Money Maker LPremastered from the original session tapes. Arguably one of the rarest albums in the Studio One catalog it features a superb selection of earlier top Studio One rhythms from groups like The Heptones, Burning Spear, The Wailing Souls and John Holt. The album is to be released on August 5.
Future 2016 releases from Studio One include the Studio One Radio Show taken from two 1970's shows featuring the legendary host Winston "The Whip" Williams. Also available will be a Don Drummond collection compiled by Mr. Dodd himself before his passing in 2004 and a box set to celebrate the label's over 60 years of existence.
"We are excited for the opportunity to re launch the Studio One brand and thankful for the trust that Carol (Dodd) and her team has afforded us. Through reissues of classic titles as well as new collections, we want our releases to reflect the history and legacy of Jamaica's most iconic label. Here's to the next 60 years!"                                                      – Billy Maupin, GM Yep Roc Music Group