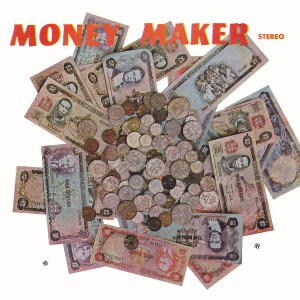 Legendary reggae label, Studio One, is currently reissuing their catalog in North America via Yep Roc Music Group.
The second album in the queue is the Money Maker LP/CD. To be released onAugust 5th, it features a more defined soul and jazz sound for Studio One. Arguably one of the rarest albums in the catalog, Money Maker is mostly instrumental versions of early Studio One rhythms made famous by groups like The Heptones, The Wailing Souls and John Holt. The album features performances by the Studio One house bands (The Sound Dimension, The Soul Brothers and The Soul Vendors) joined by Im and David, guitarist Ernest Ranglin, Lloyd Williams, Jackie Mittoo and"The Boss" himself, Coxsone Dodd. The original 1970 release was pressed in limited quantities and remained out of print until 2002 when a limited edition including extra tracks was released. Remastered from the original session tapes, this reissue is presented with it's original track listing and iconic "cash" cover.
Kicking off the reissue campaign on May 27th were The Wailers and their debut album The Wailing Wailers featuring Bob Marley, Peter Tosh and Bunny Livingston — "Not only does The Wailing Wailers highlight the first major recordings of Bob Marley, but the happy, bouncy, optimistic sound is also the sound of post-independence Jamaica." – Pitchfork Review
Future releases include the never before released Studio One Radio Show, which is two 1970's radio episodes recorded for Studio One by the Jamaican Broadcasting Corporation featuring beloved host, Winston "The Whip" Williams. Also available will be a Don Drummond collection and a "House of Joy" box set to celebrate the label's over 60 years of existence.
Founded by Clement "Coxsone" Dodd in the late 50's, Studio One was one of Jamaica's most renowned recording studios and record labels, helping to pioneer ska, rocksteady, dub and dancehall. The label discovered and released music from The Skatalites, The Wailers, Delroy Wilson, Jackie Mittoo, The Maytals, Jackie Opel, The Gaylads, Alton Ellis and more. Throughout the years, countless songs have been sampled and covered from the catalog including, "Pass the Dutchie" by Musical Youth, The Clash's cover of "Armagideon Time" and "Smile" by Lily Allen, just to name a few.
Money Maker Tracklisting
1. Money Maker – Im and David
2. Black Is Black – Im and David*
3. Soul Brother – Im and David*
4. Black Man's Train – Lloyd Williams*
5. Great Gu Gu Mu Ga (Great Gu Ga Mu Ga) – The Boss* (Coxsone Dodd)
6. Feel It – Jackie Mittoo
7. Mixing – Jackie Mittoo*
8. Candid Eye – Im and David
9. Stormy Night – Jackie Mittoo*
10. Soul Walk – Im and David
*Featuring Ernest Ranglin on guitar
Musicians: The Sound Dimension, The Soul Brothers and The Soul Vendors
Produced by Clement Dodd
Engineered by Sylvan Morris and Clement Dodd
Executive Producer: Carol Dodd
Reissue supervision by Chris Wilson for Studio One
Mastered by Toby Mountain at Northeastern Digital
Pre-Order Money Maker from the Studio One store or digitally.