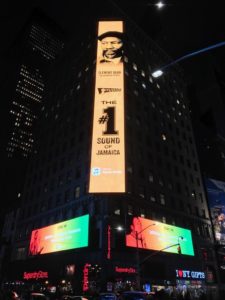 It's official, Studio One has taken over New York City and Los Angeles! As part of Reggae Month, there is a Studio One digital billboard in Times Square and multiple junior poster billboards scattered around Los Angeles. If you live in either of those cities (or feel like commuting to see the billboards in person), now's your chance to win a Studio One prize pack by doing the following:
Find one of the billboards in either Los Angeles or New York
Take a picture of yourself in front of the billboard
Post the picture on social media (Facebook, Twitter, or Instagram) while tagging Studio One and using the hashtag #S1ReggaeMonth
Follow Studio One on the social media platforms that you post on
It's as easy as that! If you follow all of those steps, you're automatically entered to win the following Studio One prize pack:
1 LP of The Wailers – The Wailing Wailers
1 CD of the Money Maker collection
1 LP of the Studio One Radio Show
1 LP of Don Drummond – Don Cosmic
1 LP of The Skatalites – Foundation Ska
1 CD of From the Vaults, Vol. 1
1 CD of Freddie McKay – Picture on the Wall: Deluxe Edition
1 CD of Freddie McGregor – Bobby Bobylon: Deluxe Edition
1 LP of Version Dread
Here's some tips from us to help you win:
You'll get one entry per social media site you post the image on! For example, if you post it on Facebook only, you receive one entry. But if you post it on Facebook, Twitter, and Instagram, that's three chances that you'll win the prize pack!
You have to tag the official Studio One social account on the corresponding platform in order for your entry to count! Plus, you have to follow Studio One on the official accounts! The official Studio One accounts can be found below:
You have to use the hashtag #S1ReggaeMonth on each post in order for us to see your post!
We'll pick the two winners (one from Los Angeles and one from New York) on February 15th, so get your posts in before then!
Use the handy Google Map below to see which billboard location is nearest you!
Be sure to follow Studio One on social media and subscribe to our email list to stay up-to-date on contests like this and all upcoming releases. Happy Reggae Month!