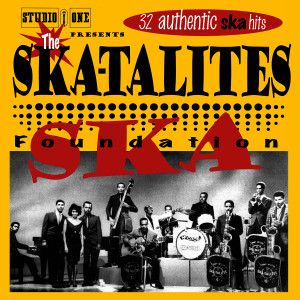 For Foundation Ska's 20th anniversary, Studio One is excited to be issuing it for the first time since it's original pressing. This edition comes with a booklet chronicling the history of the Skatalities, six scare Skatalites tracks not included on the original release, and liner notes by Studio One and Heartbeat Records personality Chris Wilson.
Foundation Ska is one of the top compilations to explore the greatness of the legendary Skatalites. This top-tier Jamaican ska band featured the cream of the island's musicians in a true supergroup. Tommy McCook, Roland Alphonso, and Johnny Moore were already recognized as the best players on the island and Don Drummond's legendary status eclipsed them all. Adding Lloyd Knibbs and Lloyd Brevette as the rhythm section and Jackie Mittoo on piano, the Skatalites' greatness was unrivaled.
The reissue of this 1997 album, long out of print, is now a strictly Studio One affair with the inclusion of six hard-to-find tracks from the label. A true slice of ska history, these songs sound as fresh today as they did when first released in the early sixties. Including a history of the group and song notes along with its mix of top songs and vocals, this album is a must have for all ska fans.
The Skatalites were the first and only Ska supergroup. During 1964 and 1965 they recorded more hits together than any other musical aggregation in Jamaica's history. Don Drummond, Roland Alphonso and Tommy McCook remain as three of the legends of Jamaican music to this day.
The thirty-two top hits on this collection feature their years with the legend of Ska, Sir Coxsone Dodd, the Downbeat. Their collaboration produced hits for both the Skatalites themselves and singers such as The Wailers, Jackie Opel and a host of others.
Here are the hits that fueled their legendary status in Ska circles and have made them favorite's the world over more than forty years later. Foundation Ska brings the picks of the past to life again. Fire Hot Ska!
Produced by Clement S. Dodd.
Executive Producer: Carol Dodd for Studio One
Reissue Coordination: Chris Wilson for Studio One.
Research by David "Dro" Ostrowe. A light gone too soon.
Recorded at Federal Records and Studio One, Kingston Jamaica.